Chris Foggin was born in Salisbury (now Harare), Zimbabwe, in 1947. After undertaking a first year BSc at Cape Town University in 1966, he was accepted into the Faculty of Veterinary Science at Onderstepoort, University of Pretoria, South Africa and completed his Bachelor of Veterinary Science degree there in 1970. After five years in private, mixed veterinary practice in Zimbabwe and the UK, he joined the Veterinary Research Laboratory (now the Central Veterinary Laboratory), in the Ministry of Agriculture in February 1976. He remained in the Government Veterinary Services from that date until his age-compulsory retirement in August 2012.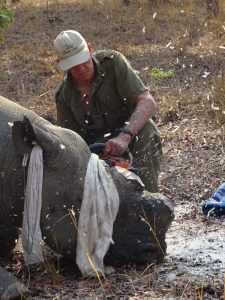 The Unit remains responsible for wildlife diagnostic, regulatory, extension, research and conservation veterinary medicine work throughout Zimbabwe's commercial wildlife properties, including wildlife conservancies, as well as within the Parks and Wildlife Estate. For over a decade since 1996, after the two veterinarians employed by the Parks and Wildlife Management Authority left Zimbabwe, Dr Foggin was the only veterinarian in the country attending to rhino veterinary requirements. In this work he has had to perform some 1400 field immobilizations of black and white rhino for routine management operations as well as for translocations and treatments of snares and other injuries.
Chris joined the Victoria Falls Wildlife Trust following his retirement from Government service in 2012 and is active in wildlife disease diagnosis and investigation and some field and clinical wildlife veterinary work.